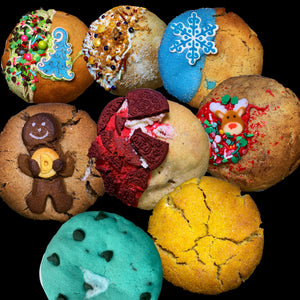 Blueberry Snowflake: naked dough base loaded with blueberry pop-tart crumbles, blueberry Oreo crumbles, & vanilla chips! Stuffed with fresh blueberry filling!
Apple Pie Reindeer: dough base is loaded with all the favorite holiday slices of cinnamon, clove, nutmeg, allspice, & ginger, with caramel chips, & stuffed with fresh apple pie filling !
Snickerdoodle Banana: banana infused dough base is loaded with white chocolate chips & snickerdoodle cookie crumbles, stuffed with fresh banana cream & topped with a cinnamon toast sugar!
Red Velvet Oreo: naked dough base loaded with red velvet oreos chunks and crumbs stuffed with our fresh cream cheese filling! Loaded with more red velvet Oreos ontop! 
Ginger Roo Riginal: ginger dough base: ginger, cinnamon, allspice, & molasses swirl together. Stuffed with our homemade Oreo Creme. Topped with the cutest smiling gingerman/girl holding a Dunkaroos cookie! 

Whoooooville: Cookie Butter base dough is loaded with chocolate chunks, edible chocolate chip cookie dough chunks, stuffed with an oooey goooey chocolate chip center. Drizzled & decorated.
Cookie Butter Sugar Babe: Cookie Butter base dough is loaded with white chocolate biscoff cookie crumbles, stuffed in the center is our sugar cookie filling! White chocolate dipped & sprinkles!
Cookie Monster Choc Chip: Basic B (Blue) 
Each Glam Cookie Box will include 8 (EIGHT) individual Glam Cookies. 
Glam Cookie Nutrition break down can be found on our nutrition tab. 
Glam Cookies should be refrigerated upon delivery to extend the life; they can also be frozen.
Cream or Fruit Filling can spoil during extended transit times, we are not responsible for this. 
All sales are final. No refunds or exchanges.
**If the cookie comes cracked/crumbled, bag rips, chocolate chips begin to melt, etc; NO REFUNDS OR EXCHANGES. You are buying a baked good that is being SHIPPED ACROSS THE COUNTRY- we are not God and cannot get the item to you in perfect condition! We do our best to package them accordingly. Thank you**
Liquid error (layout/theme line 136): Could not find asset snippets/disable-checkout-until-slots-load.liquid