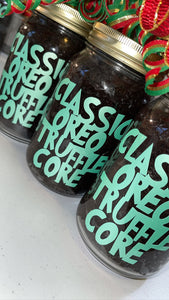 For years y'all have asked if we could straight up sell our truffle core fillings! So here it is, Classic Oreo Truffle Core served in a Mason Jar! 
Jar contains approx 500g of Classic Oreo Truffle Core, which is close to 12 standard Truffles! (So for those of you trying to track this item, base your macros off of Classic Oreo Truffle - 12 servings per container!)
Contains: Wheat, Soy. 
**as always make yourself well versed in our shipping policy- no exceptions!**
Liquid error (layout/theme line 136): Could not find asset snippets/disable-checkout-until-slots-load.liquid