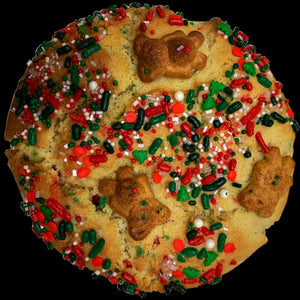 Naked dough base is loaded with sprinkles and honey teddy grahams, stuffed with a red white chocolate ganache (best when warmed) and topped with more teddys and festive sprinkles! 
Each Glam Cookie is one individual cookie.
Allergic/caloric breakdown for Glam Cookies & Fillings can be found on the Nutrition tab of the Dough Palace Shopify.
Refrigerate upon delivery.
All sales are final. No refunds or exchanges.
**If the cookie comes cracked/crumbled, bag rips, chocolate chips begin to melt, etc; NO REFUNDS OR EXCHANGES. You are buying a baked good that is being SHIPPED ACROSS THE COUNTRY- we are not God and cannot get the item to you in perfect condition! We do our best to package them accordingly. If a cream or fruit filling spoils while in transit this is also not our responsibility, delays in shipping are out of our control. Thank you**
Liquid error (layout/theme line 136): Could not find asset snippets/disable-checkout-until-slots-load.liquid